DDO has been up for more than 48 hours now without a crash. I am so relieved. Today started +1 loot and plus 25% experience and the hubby and I are itching to get in there and level some of our lowbies :)
Turbine has been letting us know of some of the new features they have coming to the game. Jerry over at DDOcast has done an awesome job of detailing them on his blog, so I won't repeat them again, but I am hoping this means we are getting closer and closer to Mod 9 going live and having some new higher level content.
I am still faithfully trying to find something to take a picture of everyday. It's harder than you would think, but I am enjoying the heck out of it.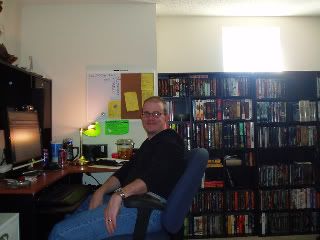 Day 4
A picture of Bri at his desk. I am going to miss seeing him there, so I am glad to have the photo.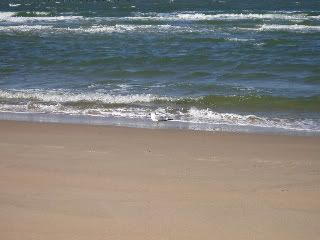 Day 5
We walked a down to the beach here by the house. The wind was fierce and kicking up the waves. I tried to catch a picture of a seagull by the surf. It turned out ok, but I think I need a better zoom!