Listen to that and tell me if you don't feel good. It's the victory fanfare from Final Fantasy 12. I have been playing the game again this morning. I just love to hear that tune.
I sometimes get mad when I think I have beaten a boss and it turns out it was just a mini fight and I don't get the fanfare LOL.
Tonight is static night for my DDO static group. I am hoping the servers are stable enough for us to play. They were done almost all of yesterday with another untimely outage about 9ish last night. Chat servers seem sot be failing. I am not going to pretend I am not excited to get to play with my friends, but I am seriously not in the mood for crashes.
The hubby is gone tonight so he will miss our group. He says I am getting better about Navy stuff and I am not as stressed out about it anymore. I think that is a pretty big compliment and it made me smile.
Having military life explained to you is one thing, but living it is another. I guess I am getting used enough to it that he feels I am relaxing.
It's unpredictable. He is gone a lot. I never know if I am making dinner now or later, reheating food, or doing a load of laundry at midnight because he got dirt on something he needs to wear tomorrow.
Its an odd lifestyle. I am married, but I am not in the traditional sense. I have no control over a business trip, or if he will be home by dinner, or when and if he can make a phone call.
It means my single life continues in some ways. I spend a lot of nights and days alone. I cook for one more than I like. Planning anything seems more work than its worth.
Maybe I am relaxing a little.
*gasp*
Could I actually be getting better at change?
I am actually gaming today which has been very very nice. I have missed it. I guess a break is good sometimes. You appreciate what you have been missing when you get it back.
That doesn't just apply to gaming either.
I am still doing my photo project.
I have spent the last 4 weeks trying to get my license done after the move. State to State communication is still poor to say it at best. Snail mail took over 4 weeks getting my records here. Yesterday I won the battle.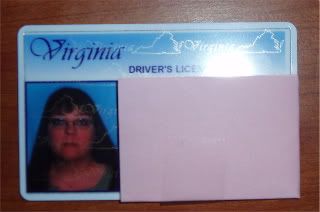 I even drove home after dropping the hubby off this morning. I am on the road again w00t!