YAY another Friday is here.
I am always glad to see Friday, but this week especially so. This fluish type yuck has me drained. I would love a couple of days of real rest.
Look at this!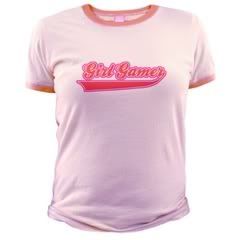 A friend of mine is getting back into making t-shirts. This is the shirt he kinda made for me :) A girl gamers shirt, and well hello it is pink. I mean you can't go wrong with pink.
So buy a t-shirt and support a fellow gamers gaming habits. Visit his site here.
I haven't actually gamed much this week. By the time I get home all I want to do is sleep.
It's given me some time to watch some movies though.
My new favorite is Atonement. It's based on a book. I normally do not like movies based on books. They can be spoiled by the clashing of two visions. In this case. Wow. Powerful film. I won't give it away if you haven't seen it. Give it a try.
I am hoping, however, to get my game on this weekend for at least a little while. I need to kill some kobolds, loot some chests and chat with friends. I know I am feeling better when I actually want to talk to people. :)
Hope everyone has a super fantastic weekend.