I ended up canceling my other order on the other PC. I really really really wanted a pink case. Apparently, they are not in great demand. I couldn't find one on any of the other sites. A friend told me about newegg.com and linked me to a totally Pink case of yumminess.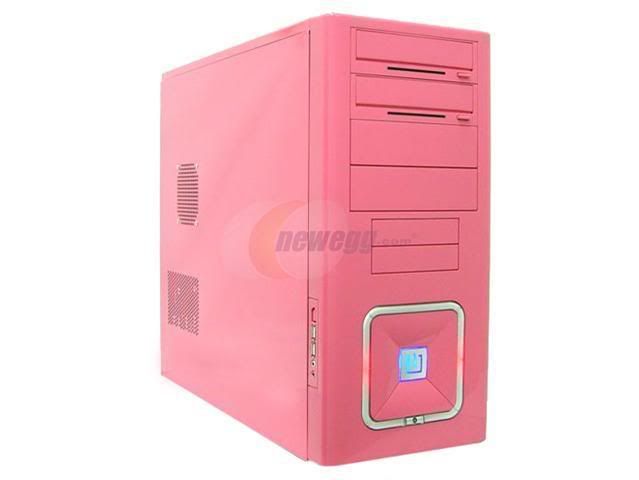 Isn't it pretty... sigh!
So I am now putting together my own machine. Its just a little bit better than the other one I was going to have built for me, and I will know more about it. Plus, HELLO, pink case :)
Here is what I ended up with!
1 MSI NX8500GT-TD512EH GeForce 8500GT 512MB 128-bit GDDR2 PCI Express x16 Video Card - Retail
1 Western Digital Caviar SE WD1600AAJS 160GB 7200 RPM SATA 3.0Gb/s Hard Drive - OEM
1 GIGABYTE GA-M57SLI-S4 AM2 NVIDIA nForce 570 SLI MCP ATX AMD Motherboard - Retail
1 AMD Athlon 64 X2 4400+ Brisbane 2.3GHz Socket AM2 65W Processor Model ADO4400DDBOX - Retail
1 Microsoft Windows XP Home With SP2B 1 Pack - OEM
1 RAIDMAX O² ATX-302KP Pink 0.7mm SECC ATX Mid Tower Computer Case 420Watt PRESCOTT/ SATA Ready Power Supply - Retail
1 A-DATA 2GB (2 x 1GB) 240-Pin DDR2 SDRAM DDR2 800 (PC2 6400) Dual Channel Kit Desktop Memory Model ADQVE1A16K - Retail
So I am totally excited. Plus newegg.com had better shipping times, so I may get everything here by the weekend! WOOT!
Hope everyone has had a good start to their year. It's a year of changes for me. Some of them very significant. I am not good at change. Prepare for the cranky Rowan.
Besides, Rowan isn't all that techy and the thought of having to put all those pieces in the case and making it run... TERRIFYING!